Informing Risk Assessment, Improving Management Decisions.
Accurately identifies the risk of metastasis in SCC patients with one or more risk factors
DecisionDx-SCC is a validated 40-GEP test that is designed to identify the risk of nodal or distant metastasis in squamous cell carcinoma (SCC) patients with one or more risk factors, based on the biological profile of 40 genes within their tumor tissue. It is the strongest independent predictor of SCC metastasis. DecisionDx-SCC results deliver precision patient classification, complementing commonly used traditional risk factors and improving risk assessment in SCC to inform key clinical management decisions:
Adjuvant radiation therapy (ART)
Nodal evaluation; imaging and sentinel lymph node biopsy (SLNB)
Frequency of follow-up and surveillance
Provides more precise and individualized risk prediction of metastasis
Knowing the risk of metastasis helps inform the best management and treatment strategy for patients. The utility of traditional clinicopathologic risk factors is limited by their low positive predictive value, and these traditional risk factors alone are often not specific enough to determine a risk appropriate SCC treatment pathway. When the DecisionDx-SCC test is incorporated with traditional risk factors, it provides improved accuracy, thus enabling clinicians to personalize additional risk prediction and invaluable information you can use to personalize a treatment or management plan specifically for each patient's individual tumor profile.
Biological risk stratification adds prognostic value
DecisionDx-SCC is a genomic test that was developed to predict metastatic risk for SCC patients with one or more risk factors. The test classifies patients as low (Class 1), higher (Class 2A) or highest (Class 2B) biological risk of metastasis.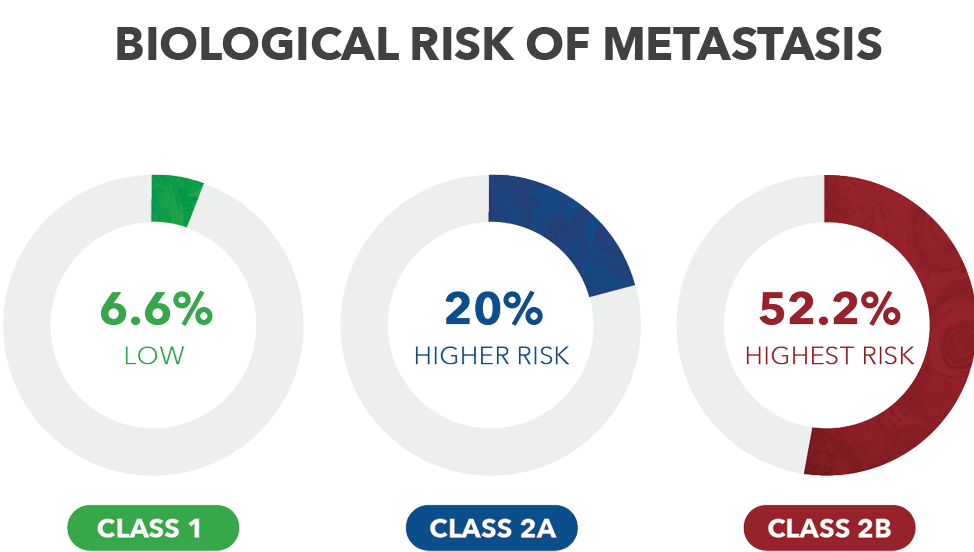 Meets an increasing unmet clinical need
Managing SCC in patients diagnosed with one or more risk factors is a significant clinical issue as deaths from SCC are now estimated to exceed those from melanoma. Because treatment and management plans are guided by risk for metastasis, prognostic accuracy has direct implications on patient management. And traditional clinicopathological risk factors alone are often not specific enough to determine risk-appropriate SCC treatment and management.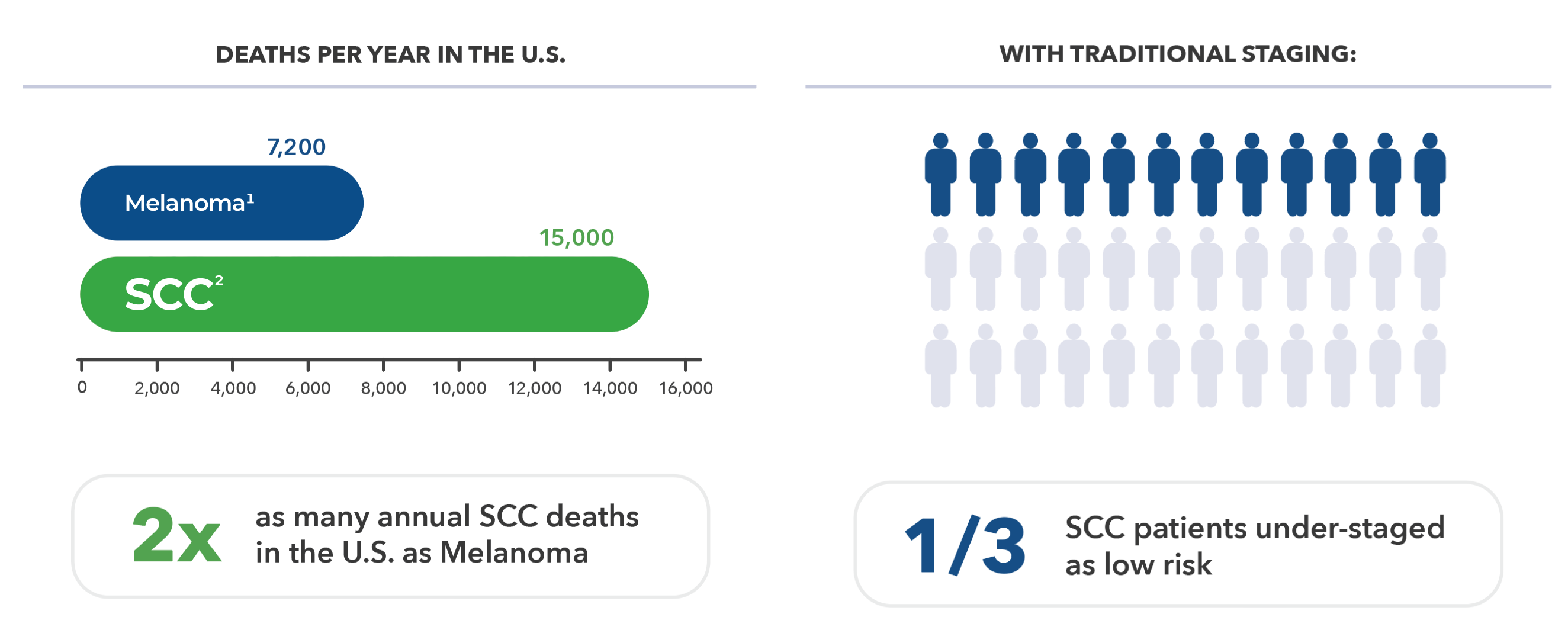 1. SEER Data Release 2019
2. Mansouri B et al. JAMA Dermatology 2017